Bone: a tissue and an organ
The term "bone" is used to refer to both the organ and the tissue. The organ bone is composed of bone tissue along with surface coverings (periosteum, endosteum), marrow tissue, hyaline cartilage, and blood and nerve supplies. Bone tissue is composed of cells that produce and maintain bone (osteoblasts and osteocytes), resorb bone (osteoclasts) and line bone spaces (bone lining cells). Bone tissue also has of an extracellular matrix containing organic (fibers, ground substance) and inorganic (calcium phosphate) components. 200x

Orientation >
This composite image shows a long bone, the femur, together with two light micrographs taken from regions shown by the green boxes. The inset image shows an entire cross section through the bone at the levels of the box in the left image. The higher magnification micrographs show the outer surface of the bone (left) and inner surface (right).

Bone the organ >
Bone refers to both a tissue and an organ. The organ bone is composed of bone tissue along with its surface coverings (periosteum, endosteum), marrow tissue, articular hyaline cartilage, and blood and nerve supplies. This bone is the femur, a long bone located in the thigh.

- Periosteum >
Periosteum is a connective tissue layer that covers the exterior surface of bones, excluding the articular surfaces. The periosteum consists of dense connective tissue plus a layer of bone progenitor cells. Osteoblasts and osteoclasts are also located in the periosteum and rest directly on the bone surface.

- Endosteum >
Endosteum lines all interior surfaces of bones. It consists of bone lining cells (endosteal cells) that maintain the bone and may serve as osteoprogenitor cells. It also includes bone forming cells (osteoblasts), in regions where bone deposition is occurring, and bone resorbing cells (osteoclasts) where bone resorption is occurring.

- Blood vessels >
Bone is a highly vascularized organ and tissue.

- Marrow >
The central cavity of the bone is called the marrow cavity (X) and contains either red marrow (blood forming) or yellow marrow (fat cells).

Bone the tissue >
The term "bone" is used to refer to both the organ and the tissue. Bone tissue is composed of cells (osteoblasts, osteocytes, osteoclasts and bone lining cells) and an extracellular matrix with organic (fibers and ground substance) and inorganic (calcium phosphate) components.

- Osteoblasts >
Osteoblasts are cells that lie on the surface of bone and produce the matrix (deposition), surrounding themselves during the process. Once entirely enclosed by matrix, these cells are called osteocytes.

- Osteocytes
Osteocytes are located within the bone and serve to maintain the matrix.

- Osteoclasts >
Osteoclasts are also located on a bony surface, where they break down the bony matrix (resorption) during remodeling of the bone as well as to mobilize calcium.

- Extracellular matrix >
The extracellular matrix of bone has both organic components, consisting of fibers and ground substance as well as inorganic components, primarily calcium phosphate (hydroxyapatite).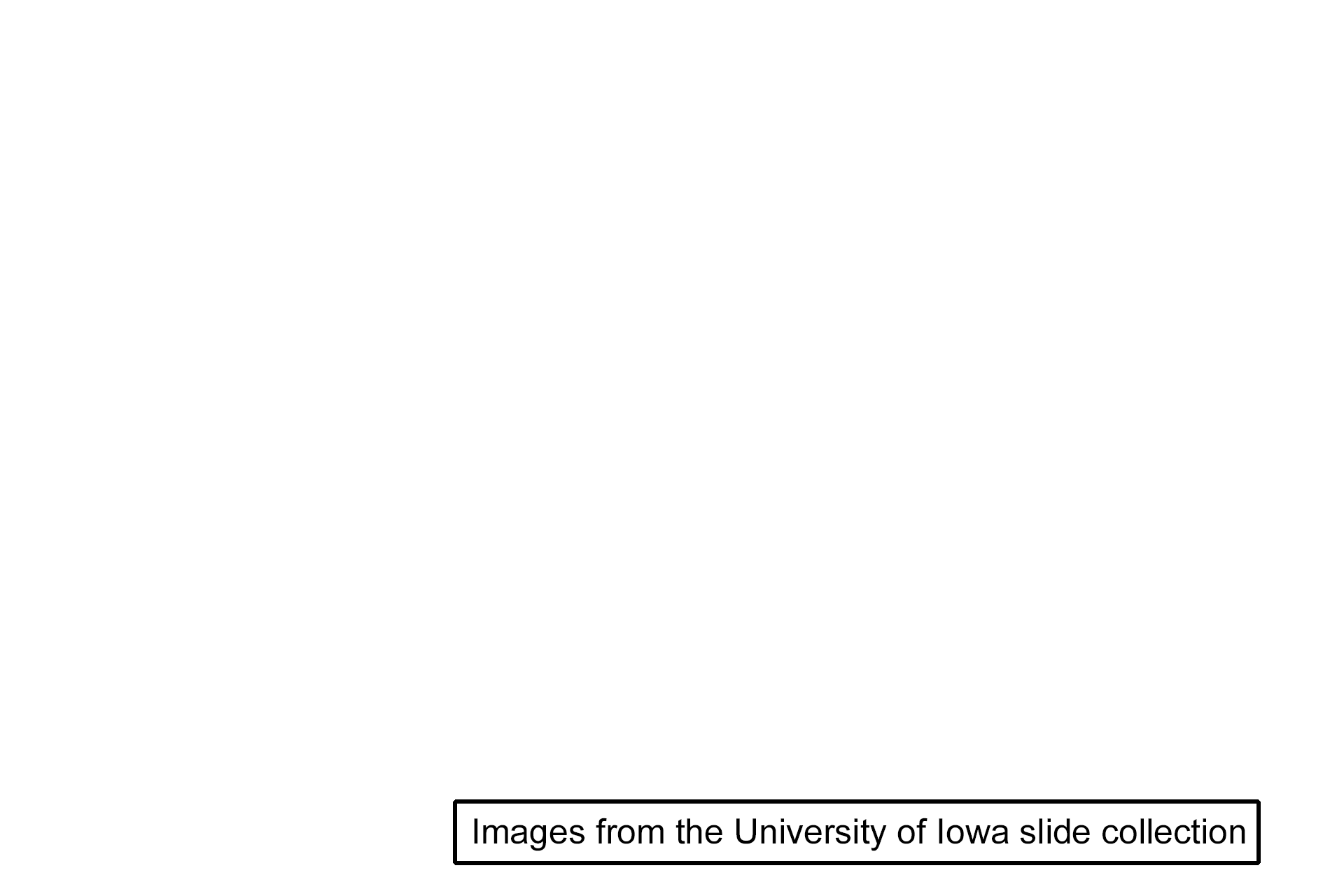 Image source >
Images from the University of Iowa slide collection.