Uterus: proliferative phase (Days 6-14)
To date the endometrium and, thus, determine the stage of the menstrual cycle, evaluate the thickness of the endometrium, the development of its glands, and the visibility of spiral arteries. In this image the endometrium is not very thick, glands are straight, and spiral arteries are not readily visible, all indications of the proliferative phase. 100x

Basal zone >
The basal zone of the endometrium rests on the myometrium and can be readily distinguished in images because of its darker staining quality (resulting from smaller, closely packed cells). The bases of the glands, located in this layer, are the source of cells that regenerate the glands and also the surface epithelium of the functional zone following menstruation.
Functional zone >
The functional zone of the endometrium is rapidly growing during the proliferative phase, under the influence of estrogen from the ovarian follicles. Simple branched tubular glands are fairly straight and are non-secretory at this time. Because they are growing to keep up with the proliferating functional zone, spiral arteries will be present but are not coiled and will be difficult to see. Simple tubular glands >
Simple branched tubular glands in the endometrium are straight during the proliferative phase and are non-secretory at this time.

Myometrium >
Only a small portion of the myometrium is visible in this image.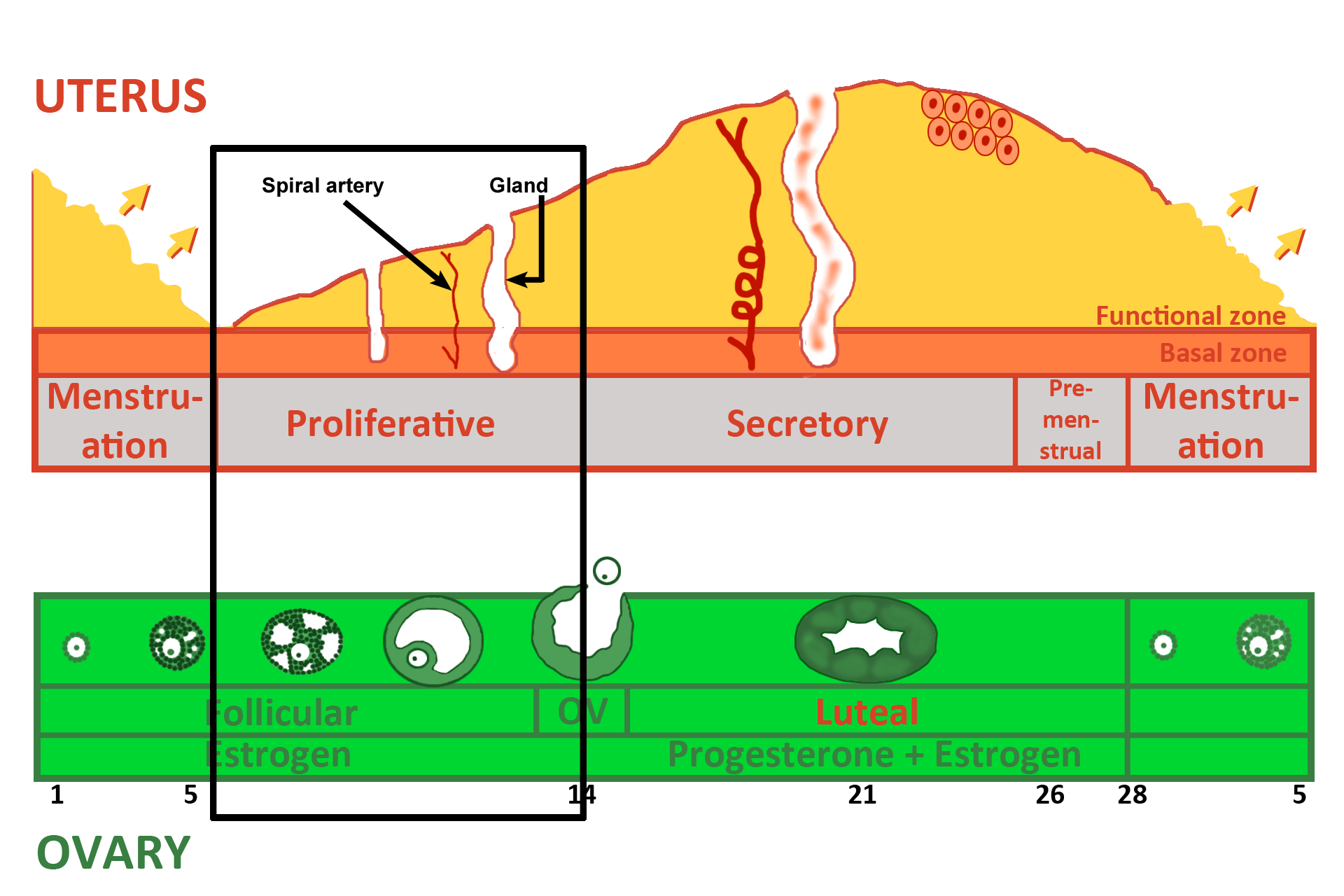 Graphic: proliferative phase >
Uterus: Proliferative phase (days 6-14) — During this phase the functional zone is proliferating, regenerating itself from the basal zone. Therefore, the functional zone is relatively thin. Glands are growing and appear straight and non-secretory. Spiral arteries are not coiled and, therefore, are difficult to identify. Note the stage of the ovarian cycle at this time.