Overview: Middle defense
Tissue fluid percolating through lamina propria accumulates as lymph in blind-ending lymph capillaries, which anastomose to form larger lymph vessels.  Any antigen not inactivated by lymphoid tissue in the lamina propria would also be transported with tissue fluid into lymph vessels and carried to lymph nodes, the middle defense structures.  600x, 400x

Lymph capillaries
Tissue fluid percolating through lamina propria accumulates as lymph in blind-ending lymph capillaries, which anastomose to form larger lymph vessels.  Any antigen not inactivated by lymphoid tissue in the lamina propria would also be transported with tissue fluid into lymph vessels and carried to lymph nodes, the middle defense structures.  600x, 400x

Lymph vessels
Tissue fluid percolating through lamina propria accumulates as lymph in blind-ending lymph capillaries, which anastomose to form larger lymph vessels.  Any antigen not inactivated by lymphoid tissue in the lamina propria would also be transported with tissue fluid into lymph vessels and carried to lymph nodes, the middle defense structures.  600x, 400x

Lymph nodes
Tissue fluid percolating through lamina propria accumulates as lymph in blind-ending lymph capillaries, which anastomose to form larger lymph vessels.  Any antigen not inactivated by lymphoid tissue in the lamina propria would also be transported with tissue fluid into lymph vessels and carried to lymph nodes, the middle defense structures.  600x, 400x

Valves
Tissue fluid percolating through lamina propria accumulates as lymph in blind-ending lymph capillaries, which anastomose to form larger lymph vessels.  Any antigen not inactivated by lymphoid tissue in the lamina propria would also be transported with tissue fluid into lymph vessels and carried to lymph nodes, the middle defense structures.  600x, 400x

Venule
Tissue fluid percolating through lamina propria accumulates as lymph in blind-ending lymph capillaries, which anastomose to form larger lymph vessels.  Any antigen not inactivated by lymphoid tissue in the lamina propria would also be transported with tissue fluid into lymph vessels and carried to lymph nodes, the middle defense structures.  600x, 400x

Small and large intestines
Tissue fluid percolating through lamina propria accumulates as lymph in blind-ending lymph capillaries, which anastomose to form larger lymph vessels.  Any antigen not inactivated by lymphoid tissue in the lamina propria would also be transported with tissue fluid into lymph vessels and carried to lymph nodes, the middle defense structures.  600x, 400x

Body fluids >
Although the three fluids of the body are each confined to a specific body compartment, they are interrelated to each other and to the circulation of fluids through the body. Fluid, transferred from capillaries, percolates through connective tissue proper as tissue fluid. After tissue fluid accumulates in lymph vessels, it is now called lymph. Lymph vessels eventually empty into blood vessels containing the third fluid, blood.

- Tissue fluid >
Tissue fluid percolates through the connective tissues proper. Microbes that penetrate an epithelium are located in a connective tissue layer, such as lamina propria, and are bathed in tissue fluid. Lymphoid structures in these connective tissues (such as diffuse lymphoid tissue, solitary lymphoid nodules, tonsils and Peyer's patches) filter tissue fluid and respond to any antigen present.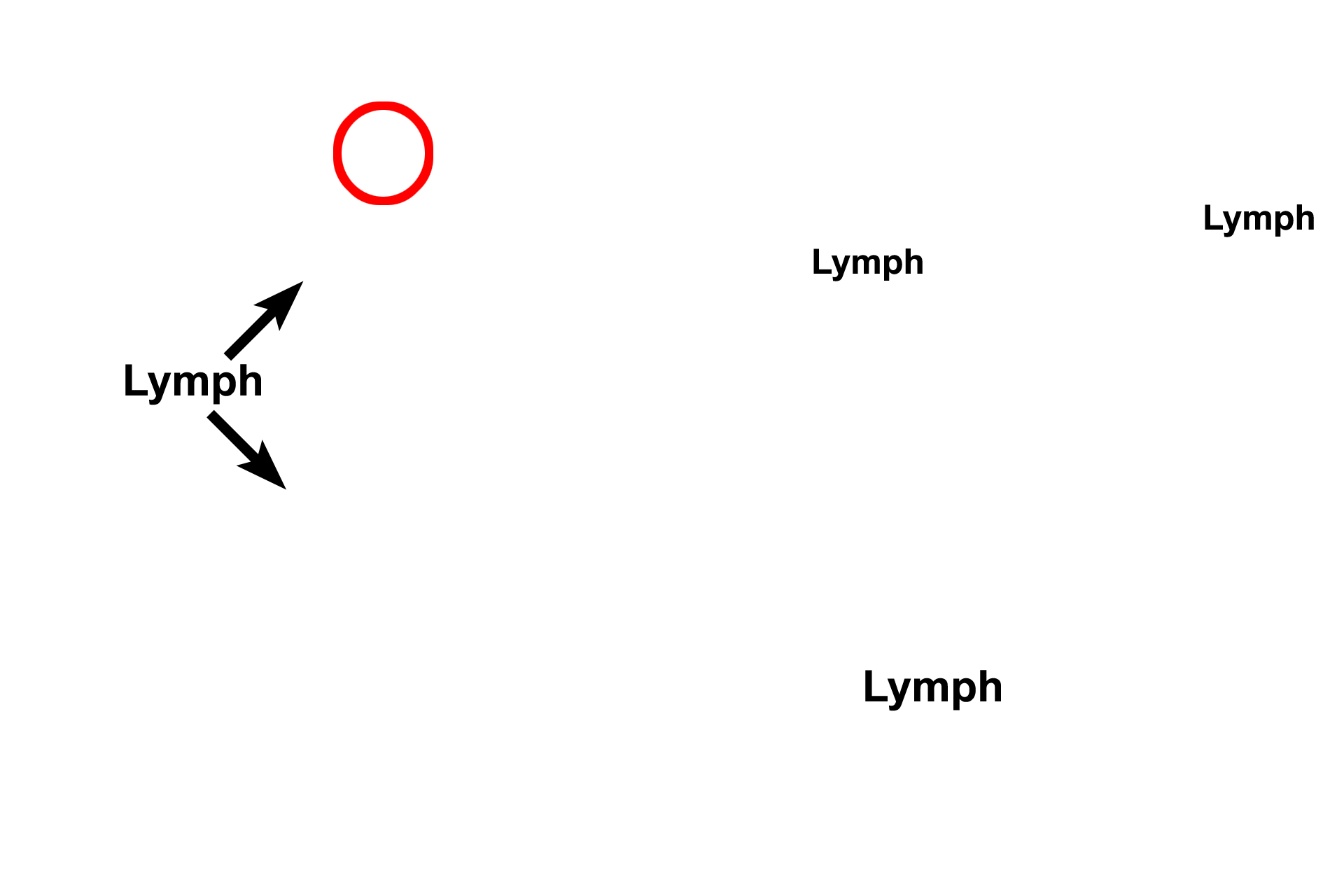 - Lymph >
Tissue fluid, any antigens it contains, and lymphocytes accumulate in lymph vessels and is called lymph.  Because they are located along lymphatic vessels, lymph nodes filter lymph and initiate an immune response to any antigen carried in that fluid. Lymph vessels join the blood vascular system (red circle) and are a major conduit for the return of tissue fluid to the blood.

- Blood >
Blood, located in the heart and blood vessels, is the third fluid of the body.  The spleen, well supplied by blood, filters this fluid, reacting to any foreign agent the blood contains.